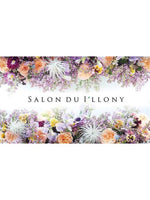 Salon du I'llony
Translation missing: en.products.product.price.regular_price

Translation missing: en.products.product.price.sale_price

月会費: ₩28,000

Translation missing: en.products.product.price.unit_price

Translation missing: en.accessibility.unit_price_separator
(税込)
An online salon for enjoying irony flowers even more.

Proceeds from this online salon will be used to train staff so that Irony can become your favorite flower shop in the world.

It will be an activity with a dedicated Instagram account.
Benefits for salon members ◎ You can view online demonstrations once a month.
While chatting with everyone, the owner Taniguchi will present a gorgeous bouquet to 7 bundled salon members by lottery.
◎ An online drinking party with the owner Taniguchi will be held irregularly.
Please directly talk about information that can only be heard here, questions and requests for Irony.
◎ Pre-sale and limited sales of rare vases. Salon members are given priority for purchase.
◎ Taniguchi writes a diary to be published only for salon members. Things like flowers and irony.
◎ There are plenty of posts about flowers received from staff and custom-made gifts.

As the number of members increases, the contents will be enriched, so please join us and join us!

[Please check when applying]
* Salon participation fee is 3300 yen (tax included) per month.
* In principle, the renewal will be automatic, and the first payment will be made at the time of application, and from the next month, payment will be made on the 5th of each month.
* If you wish to withdraw from membership, please contact us using the inquiry form by the last day of the month before the month in which you wish to withdraw.
Please note that your membership will be canceled on the last day of the month following the month in which you contacted us, and payment will be made for the following month.
Example: If you contact us by the end of August, the payment will be made on September 5th and you will be withdrawn at the end of September.

*If you have not registered on Instagram, please register as a member first.
*After completing the purchase, please apply for participation by yourself from the link provided in the order email.
We will compare it with the account name that you have informed us, and we will approve it as soon as we confirm the payment.
[About payment]
Only credit cards and Paypal are accepted.
If you wish to pay by bank transfer, please make an annual application (39,600 yen including tax).
For this application, please contact office@illony.com with your name and Instagram account name.
[To all former SAP bottle keepers]
From January, SAP has been integrated with Online Salon. Along with that, we are automatically transitioning everyone as an online salon member until the expiration date of your own bottle keep.
Regarding the continuation, we will send you an "Online Salon Guide" in the bottle keep renewal month, so please check it.
---
商品のお届けについて
【配送日数について】
ご注文いただいた日から3日後のお届けが最短となります。(出荷から2日後が最短到着となる北海道・沖縄など一部地域を除く)
【生花(アレンジメント・ブーケ)お届け不可期間と地域についてご案内とお願い】
沖縄、北海道につきましては、最短お届けに2日かかりますので、夏季期間(目安6月から9月末日)は沖縄への発送を、冬季期間(目安11月から2月)は北海道への発送を品質保持のため控えさせていただいております。
沖縄、北海道につきましては、最短お届けに2日かかり、品質の保証ができかねますため生花の配送はおすすめ致しません。品質低下による枯れなどへの代品返金対応ができないことをご了承の上、ご注文ください。
送料:北海道・沖縄は2000円(税込)、それ以外の地域は1500円(税込)となります。また配送温度安定のため、北海道は冬季期間、沖縄は夏季期間にはクール便でお届けいたしますので、別途クール便代660円(税込)がかかりますことをご了解ください。
【梱包について】
Jardin du I'llonyのロゴが入ったオリジナルボックスの上部をカットしてセロハンで蓋をすることで、運送業者さんに花の存在を感じてもらい丁寧に扱ってもらう工夫をしています。
ご注文頂いたギフトフラワーの取り扱いには万全を尽くしておりますが、時折、天災・事故などによる交通渋滞、異常気象が原因で配達が遅れる場合がございます。出来る限りの対応を取らさせて頂きますが、何卒ご理解くださりますようにお願い致します。
※取り扱い注意の文面をつけています。
---
販売価格
Salon du I'llony
Translation missing: en.products.product.price.regular_price

Translation missing: en.products.product.price.sale_price

月会費: ₩28,000

Translation missing: en.products.product.price.unit_price

Translation missing: en.accessibility.unit_price_separator
(税込)